Upcoming Trends in the Industrial Wax Market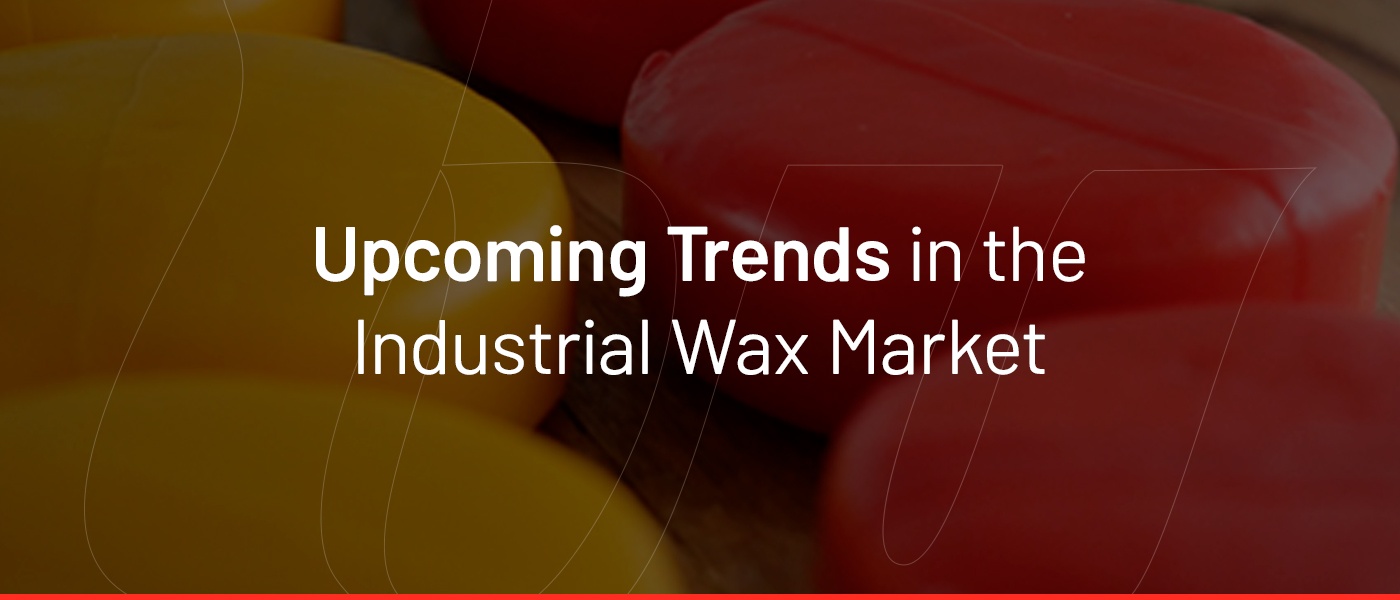 Today's global industrial wax market is on the rise. Wax industry trends fluctuated significantly in the mid- to late-20th century largely due to uncertain raw material availability and changing regulatory landscapes. In today's market, however, the industry is experiencing a more upward growth trend. Much of this growth can be attributed to the diversity of raw material sourcing and an increased user and regulatory focus on sustainability and cost-efficiency. Growth in the industrial wax market is also attributed to wax's widespread application across a range of sectors, fueled by wax's natural properties such as UV and water resistance.
With this growth, industry analysts expect numerous changes in the industrial wax market in the coming years. Here, we will discuss some of the most prominent wax industry trends and what to expect.
Market Share Insights
As of 2019, the global wax market was valued at USD 9.9 billion. Between 2020 and 2027, that value is expected to have a compound annual growth rate of 2.8%. This increased market value can be attributed to the rising demand for wax in industrial applications.
The market itself can be split by wax types described in more detail below, along with their primary applications and market share.
Mineral wax: Mineral wax is a wax-like mineral resin that consists of a mixture of hydrocarbons produced from rock salt, coal or petroleum. Favored for its pure form and relative abundance, mineral wax represents a primary share of the wax market. The mineral wax segment accounted for a share of 68% in 2019 and is expected to maintain a majority share of the market in the next few years.
Synthetic wax: Synthetic waxes are human-made waxes produced from natural gas or ethylene. Synthetic waxes are divided into fully and partially synthetic types and are often used in cosmetic products, adhesives and coatings. This segment accounted for about 30% of the industrial wax market in 2019 and is expected to maintain a similar share in the next few years.
Natural wax: Natural waxes, as the name suggests, are derived from natural products such as plants, insects and animals. Common examples include carnauba wax and beeswax, which are often used in candle and cosmetic production. This type of wax represents the smallest share of the industry, typically less than 10%, and is expected to continue representing the smallest share of the market due to the relatively high cost of production.
While these market shares are expected to remain largely the same, changes in related industries may have a moderate effect on the wax industry.
The first change is in the oil and gas industry. At present, mineral and synthetic wax production are driven by the global oil and gas markets, as both types of wax are made from petroleum products. Overproduction, reduced global demand and reduced prices in the global oil and gas industry have resulted in general slowdowns in the industry in the past five years, which has resulted in more volatile raw material prices for the wax industry. As a result, the global wax industry has increasingly turned toward polyethylene wax and beeswax as alternatives. While the oil and gas industry is expected to stabilize soon, the development of the industrial wax market may still shift toward these types of waxes for the sake of long-term stability.
Other changes in the market are contributing to an increased interest in natural wax. Consumer and regulatory agencies are increasingly interested in natural alternatives for petroleum-based products, especially in the personal care industry. This has driven up the production and use of natural waxes such as beeswax and vegetable wax in multiple markets. The global use of natural wax is expected to continue on this gradual upwards trend in the coming years.

Application Insights
Industrial applications of wax are diverse, though the range of applications is increasing at a slow rate. Today, applications primarily include candles, packaging, cosmetic products, rubber and plastic processing, adhesives, pharmaceuticals and polishes. However, these applications are growing at a rate that experts expect will support the growth of the industrial wax market in the coming years.
In terms of volume, the primary market applications of wax and their trends are as follows:
Candles: The share of candles in the wax industry was 31.4% in 2019, and this percent share is expected to remain about the same in coming years. Candles are expected to maintain a dominant position in the global industrial wax market due to the demand for candles in consumer markets and the increasing number of distribution channels.
Packaging: Packaging maintained approximately an 18% share of the global wax market in 2019. In this application, wax is used in the production of food containers, flexible packaging, paper cups and related products. Water and moisture vapor resistance make wax a highly desirable resource in this market, so packaging is expected to maintain a significant share of the global industrial wax market in the next few years.
Personal care: Personal care and cosmetic products represented a 15% share of the global wax market in 2019. This industry is increasingly using natural waxes such as beeswax in cosmetic products such as lipsticks and eyeshadow as well as skin treatments. The increased consumer interest in natural ingredients is expected to fuel the usage of natural waxes in the industry over the next few years.
Other applications, such as plastic and rubber production, adhesive production and fire log production, maintain a smaller share of the industry and are expected to maintain their market share.
How Blended Waxes Contributes
Wax is used in many industries and applications as sealants, adhesives, additives and more. The market for wax is expected to expand, and producers need quality sources of wax products to stay on top of market changes. Blended Waxes is here to help, with a variety of wax blends to serve any purpose. We provide wax blends for a range of industries, including:
Adhesives
Building materials
Candles
Cosmetics and personal care
Packaging and paper products
Food coatings
Medical
Sealing wax
and more
With industry knowledge and know-how from Blended Waxes, you can leverage wax resources for your unique applications.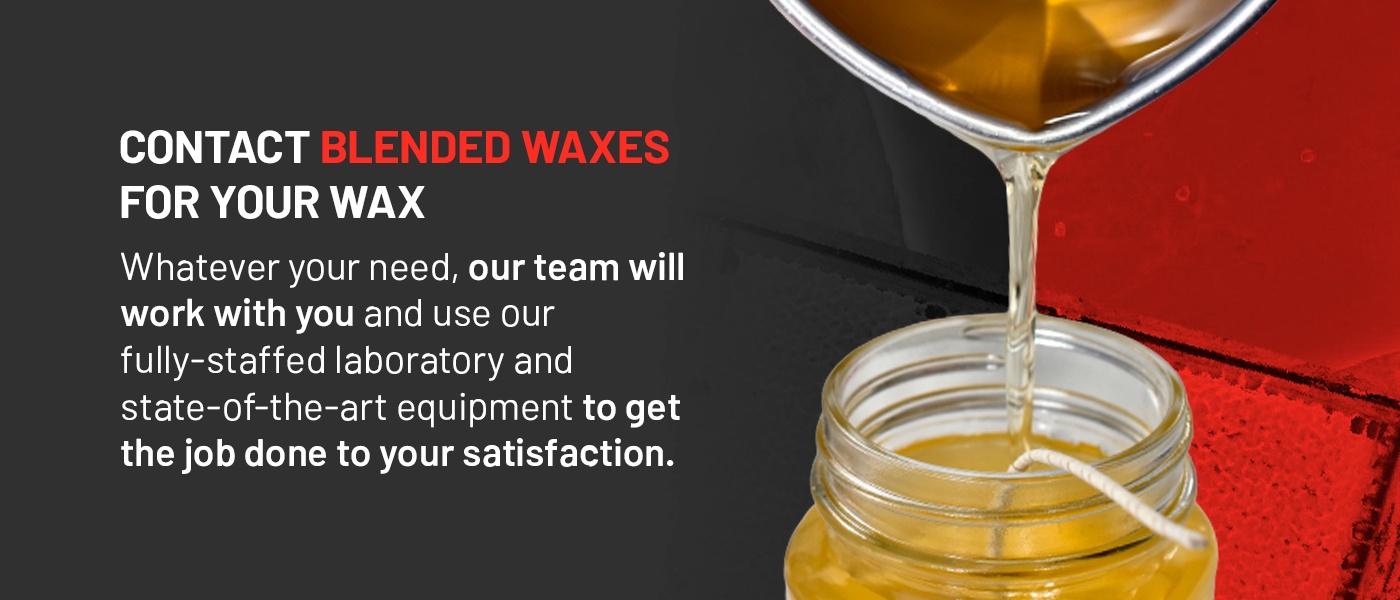 Contact Blended Waxes for Your Wax
Blended Waxes develops in-house blends of wax for clients across the United States. Since 1976, we've leveraged our resources and experience to create custom solutions for a range of applications. Whatever your need, our team will work with you and use our fully-staffed laboratory and state-of-the-art equipment to get the job done to your satisfaction.
Learn more about Blended Waxes wax products and services by contacting Blended Waxes today.