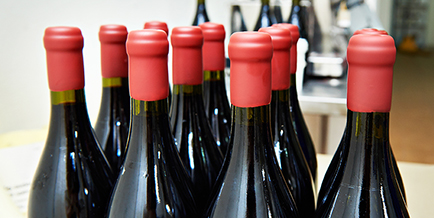 Sealing Waxes for Your Application
Blended Waxes, Inc. offers a variety of sealing wax options including bottle sealing, bottling wax, beehive wax, and floral bulb sealing. All of our commercial waxes for sealing are formulated to provide functional and aesthetic properties for your application of wax. Whether you're looking for a tamper-resistant seal on your wine bottle wax or other products, embossed seal, protective coating waxing material or just to add a distinct look to your product, we have multiple formulations to fit your needs. We have specific sealing waxes that are formulated for bottle dipping that can adhere to various corks, closure types, containers, floral bulbs, and many different substrates in a variety of colors and finishes. If you order 100 pounds or more of wax, we can create custom-colored waxes to match your brand colors. Our team will work with you to find or create a wax blend that will meet or exceed your expectations for your end product.
Wax Products for this Application
Services for this Application
Custom Sealing Coatings
You will work closely with our experienced technicians to create exactly what you need.
The Benefits of Sealing Waxes
Sealing waxes can be made from different ingredients and materials and come in different viscosities and colors depending on your needs. Regardless of what you apply it to, sealing wax offers several benefits for your application. It can help:
Preserve freshness.
Protect and preserve wood.
Lock in fragrance.
Protect bottles from leaking.
Give your products a unique look and add an aesthetically pleasing finish.
Our sealing wax is designed to melt easily to allow you to efficiently work with it. For a decorative touch, sealing wax can hold an impression, creating eye-catching designs on everything from bottle caps to letter seals. Then, once it cools, it will harden and hold the impression while ensuring a tight seal. Our waxes come in generous sizes so you can handle multiple applications at once.
Different Applications of Sealing Wax
Our sealing waxes can be used any time you need a flexible, strong coating. We carry waxes designed specifically for sealing:
Beehives: Protects the wooden exterior.
Bottles: Secures bottles while offering moisture resistance.
Floral bulbs: Seals in moisture.
Glass bottles: Secures bottles with a strong, flexible coating.
Wine bottles: Protects the cork while allowing for a clean opening.
Whether you are coating a beehive or dipping a bottle, our sealing wax allows you to create an even layer on the surface that is both durable and decorative. Each wax has different congealing and drop melt points to best suit the needs of each application.
Once you apply the wax and it cools, it will function as a protective seal and can deliver a visually appealing look. Whether you decide to add an image or your logo, you can use wax seals as a marketing and branding technique. Because our sealing wax is environmentally conscious, you can feel good about applying it and using it on a wide range of applications.
Work With Blended Waxes to Find the Right Sealing Wax for Your Application
Since 1976, Blended Waxes has been creating sealing wax for all kinds of applications. We can help you determine which one of our existing waxes would best meet your needs. If you have unique specifications, such as a certain melting point, we can create a custom blend for you at our on-site laboratory.
With our custom blends, we will work with you to create the form and volume you need. You'll get to see a sample of your sealing wax and provide us with feedback before we move forward with production. Our team does everything it takes to ensure your specific needs are met and that we exceed your expectations — while completing your wax on time and within your budget.
With our experience, equipment and resources, we can handle all of your sealing wax needs. Ready to get started? Contact us online today, and we will get back to you as soon as possible.