On-Site Laboratory Testing Ensures Precision and Quality
Our on-site laboratory uses scientifically proven wax quality control testing methods in addition to ASTM guidelines for consistent quality assurance.
We provide wax research and development, technical assistance, troubleshooting and testing for our products and yours.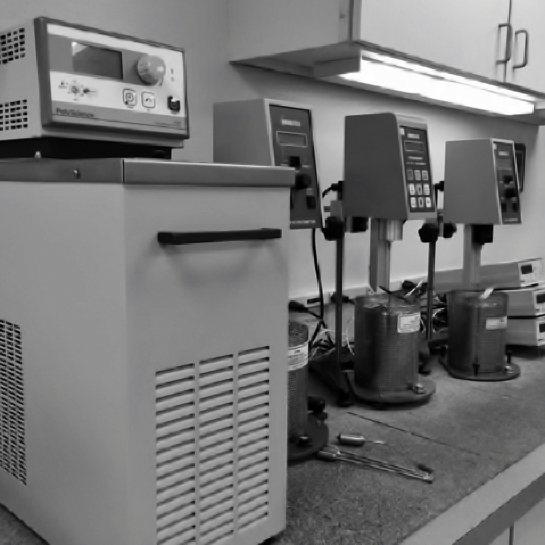 LAB EQUIPMENT
On-site laboratory instruments and capabilities include:
Differential Scanning Calorimeter (DSC) – Measures wax melt point
Infrared Spectrometer (FTIR) – Tests infrared wavelength to identify chemical composition
Autoviscometer – Tests kinematic viscosity
Brookfield Viscometer – Tests viscosity
Inductively Coupled Plasma (ICP) Machine – Detects trace elements
Karl Fischer Water Analyzer – Measures precise water content
Needle Penetrometer – Measures hardness and softness of waxes
Autotitrator – Measures acid and peroxide values
Particle Size Analyzer – Detects particle distribution and measures particle size
Densitometer – Measures density and specific gravity
Gas Chromatograph (GC) – Provides a fingerprint of a wax or wax blend
Lovibond Colorimeter – Measures color in natural waxes, including soy wax
Drop Melt Point Apparatus – Determines the melting point of a substance
WAX QUALITY TEST STANDARDS
D87-09
Standard test method for melting point of petroleum wax (cooling curve)
D92-18
Flash and fire points by Cleveland Open Cup
D97-17b
Pour point of petroleum products
D127-19
Drop Melting Point of Petroleum
D130-19
Corrosiveness to copper from petroleum
D445-19a
Kinematic viscosity of translucent and opaque liquids
D664-18e2
Acid number of petroleum products by potentiometric titration
D892-18
Foaming characteristics of lube oils
D938-12
Congealing point of petroleums and waxes
D974-14E2
Acid and base number by color indicator
D1321-16A
Needle penetration of petroleum waxes
D1500-12
Color of petroleum products
D1533-12
Water in insulating liquids by Coulometric
D1833-87
Standard test for odor of petroleum waxes
D2669-16
Standard test method for apparent viscosity of waxes
D2270-10
Calculating VI from kinematic viscosity at 40 & 100
D3236-15
Standard test method for apparent viscosity of HMA
D4052-18A
Test method for relative density by Digital Density Meter
D4951-14
Determination of additives by ICP spectrometry
E1-14
Standard specification for ASTM liquid in glass thermometers
E28-18
Softening point by ring and ball apparatus
E77-14
Standard test method for inspection and verification of thermometers
DSC
Differential Scanning Calorimeter (DSC) measures wax melt point
FTIR
Infrared Spectrometer (FTIR) tests infrared wavelength to identify chemical composition
Lab Coater
Predicts coating and substrate characteristics by heating a variety of products and coating various substrates over a wide range of temperatures
Viscosity
Measures the thickness of a liquid
AM-S 1738-07
Appearance of Lubricants, RM's & Greases
AM-S 1695-17
Characteristic Odor of Lubricant Oils & Greases
AMS 449-09
Moisture in Lubricating Oils
AM-S 1440-01
Screening of New Blends and Additives by IR
MIN0003
Particle Size Analysis with Malvern Mastersizer
MIN0006
Microbiological Count
MIN0002
Solids Content of AKD & Anionic Rosin Emulsions
MIN0005
Viscosity Measurement by Brookfield Viscometer
MIN020
Density Determination of Emulsions
Drop Test E&T
Visual Examination of emulsion product quality
GP-AT-00012
Dow Viscosity & Filtration Test
GP-AT-00012
Dow Viscosity & Filtration Test
LAB REQUEST
Fill out the form below to contact us about our lab testing services or request a service.