Private Labeling Benefits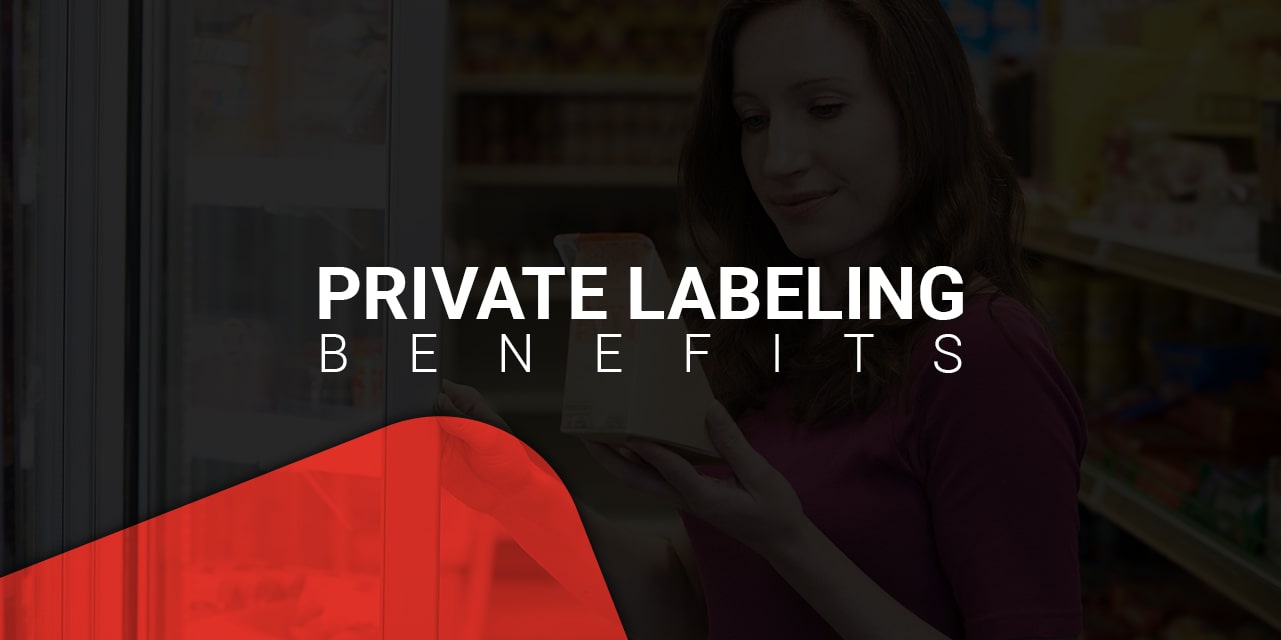 If your company is seeking new ways to gain a competitive edge in the market and supply your customers with the products they want and need — without sacrificing manufacturing control or valuable resources — private labeling could be just what you're looking for.
What Is Private Labeling?
Private-label products are those a company sources from a third-party manufacturer or supplier, then brands with their own company branding to sell under their business's name. This manufacturing and sourcing method affords companies the option to pick specific product features, like ingredients or sustainable packaging, to create a unique selection for customers.
Some of the most popular private-label items available on today's shelves include:
Frozen foods.
Spices and seasonings.
Shaving lotion.
Fragrances.
Household cleaners.
Hair conditioners.
Candles.
Bleach.
Natural cheeses.
Bottled water.
Paper towels.
Vitamins.
Pet supplies.
Over-the-counter medications.
Wine.
Salad dressings.
Private-label goods were especially common in 2020 during supply chain disruptions and product shortages. During this time, 38% of consumers tried new brands and alternative products. Despite the growing popularity of private-label products, many consumers remain a bit hesitant to experiment with lesser-known brands when it comes to personal cosmetics, baby supplies and some pet products.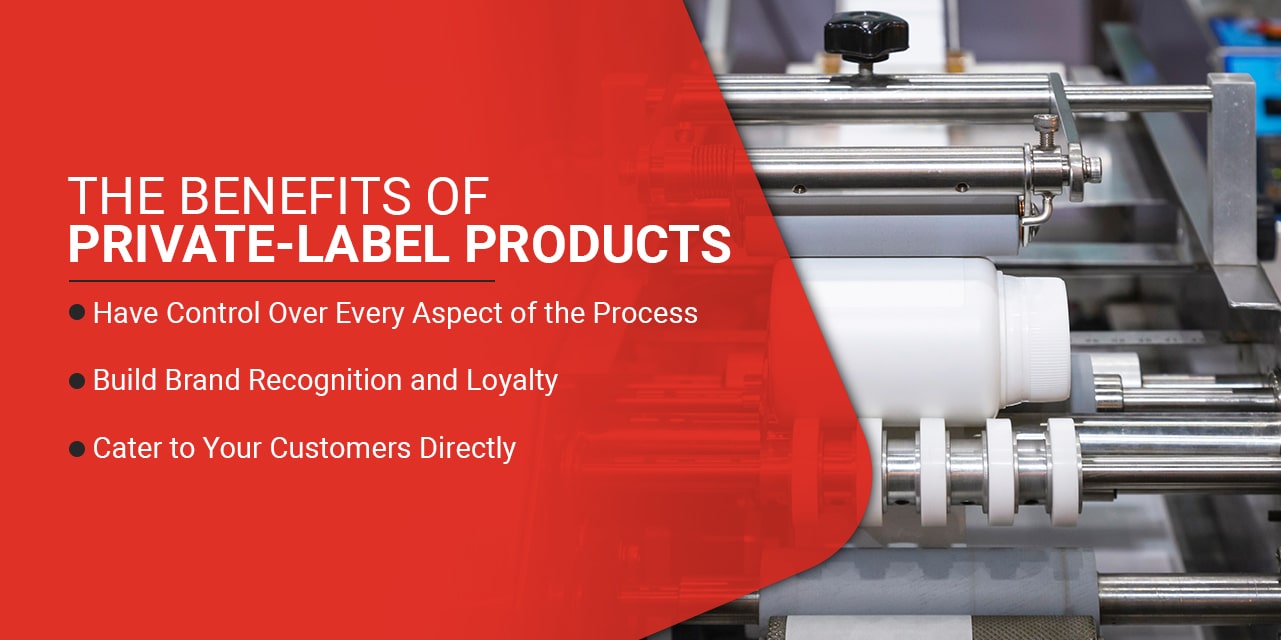 The Benefits of Private-Label Products
Consumers' views toward private-label goods have shifted to a more favorable outlook. In the past, private-label items were often regarded as a cheaper alternative to popular brands and not often praised for quality. Today, companies are making the most out of private-label products by using more branded packaging that stands out as its own product, enticing shoppers with a clear story explaining the reason behind specific choices, like sustainably-sourced ingredients.
These changes give consumers a reason to seek — rather than settle for — private-label options. Private labeling can even play a role in your company's overall identity strategy. Consider Trader Joe's — in 2019, the fan-favorite retailer amassed $13.7 billion in net sales across only 505 stores. Shoppers consistently flock to the store seeking its famous "Trader Joe's" branded products, complete with distinctive packaging, clear branding and a fun in-store experience.
With those aspects in mind, you can more easily recognize the benefits of private-label products:
1. Have Control Over Every Aspect of the Process
Private-label manufacturing eliminates the need for a middleman, which slows production and shipping time and leaves your company with little freedom over the product. It also means less money spent on markups and flexibility over how you allocate your resources toward factors like customization options, ingredients, marketing, sustainability, packaging, cost, production numbers and more.
Let's say a small specialty grocer wants to supply customers with a nutritious breakfast granola option. If that company relies on nationally-recognized brands, it's at the mercy of those businesses' pricing, marketing and ingredients. If its granola supplier suddenly switches to artificial sweeteners when the specialty grocer's target consumers are looking for healthy, all-natural options, this leaves the store with little room to accommodate.
Private-label granola would let this store mix and match components from different manufacturers to create the granola its consumers want. It might choose a supplier offering naturally sweetened granola blends, pair this with another third party's eco-friendly paper packaging, then sell the products at a competitive price.
This level of product control frees companies from the restraints of preexisting consumer bias. You don't have to contend with another brand's values, quality control or high costs. Instead, you retain a direct line to the consumer and the manufacturer, addressing consumer concerns directly and integrating feedback as needed.
Private labeling also gives companies all the creative and practical freedoms needed to produce a brand-new product without any of the overhead costs associated with self-manufacturing and product development.
2. Build Brand Recognition and Loyalty
The results are in — 82% of companies agree that retaining customers costs a lot less than acquiring new ones. Building loyalty between you and your consumers is the best way to keep them returning time and time again. Since 87% of happy customers share positive shopping experiences with others, brand loyalty is a strong tactic for growth and profit.
Part of building a strong loyalty between you and your customers, especially in niche markets, is exclusivity. If your company can offer a one-of-a-kind product that meets your target consumers' needs, is competitively priced and sets you apart from other retailers, you give them a reason to choose you over your competitor across the street. Depending on the product and your market, you might even justify higher pricing for private-label products if customers visit your store just to stock up on favorites they can't get anywhere else.
Exclusivity means the customer has to come to you if they fall in love with a product, but you can foster that sense of loyalty by pairing it with memorable branding and attentive customer service. Establish your company as a leader or expert in the industry.
Private labeling also increases brand awareness to help bring others to your doorstep. You can reap the rewards of premium products without investing the overhead or time, freeing you to continue focusing on operations and running your business.
Many private-label manufacturers offer the ability to test products in small batches, so you don't have to commit to a large order until you know it will perform well and meet your and your customers' expectations.
3. Cater to Your Customers Directly
You know your customers better than anyone. With thorough market research, you can cater directly toward your shoppers' wants and needs, stay on top of trends, target new niches in your industry and stand out from your competitors.
Private labeling lets you know when you're hitting the mark for your shoppers' needs and where you can improve by offering newer or alternative product options. Your company can stay adaptable through market changes and shifting consumer priorities without being tied to a specific product or brand that is no longer meeting those needs.
That's not to say private labeling has to be all or nothing — many companies find success by balancing known brands with private-label goods to attract and keep a variety of consumer budgets and interests.
Private labels give your store the room to grow and tailor itself to your customers, and products tend to do well for all involved. More than half of millennials consider a store's private-label options when selecting a retailer to shop with, and 60% of those ultimately prefer the store brand over national alternatives.
How Does Private Labeling Work?
Every third-party manufacturer has different policies, prices and turnaround times, but the private-label manufacturing process typically looks like this:
Choose your product, including specifications for composition, production, branding, packaging, quantity, marketing and price.
Work with a third-party manufacturer to bring your vision to life.
Run a test batch with your consumers and make adjustments as needed based on feedback and performance.
Stock and sell your private-labeled goods, adding new items to your inventory as needed.
At Blended Waxes, we work directly with companies to create private-label wax blends that meet precise specifications, and we ship those quantities to your facility post-production.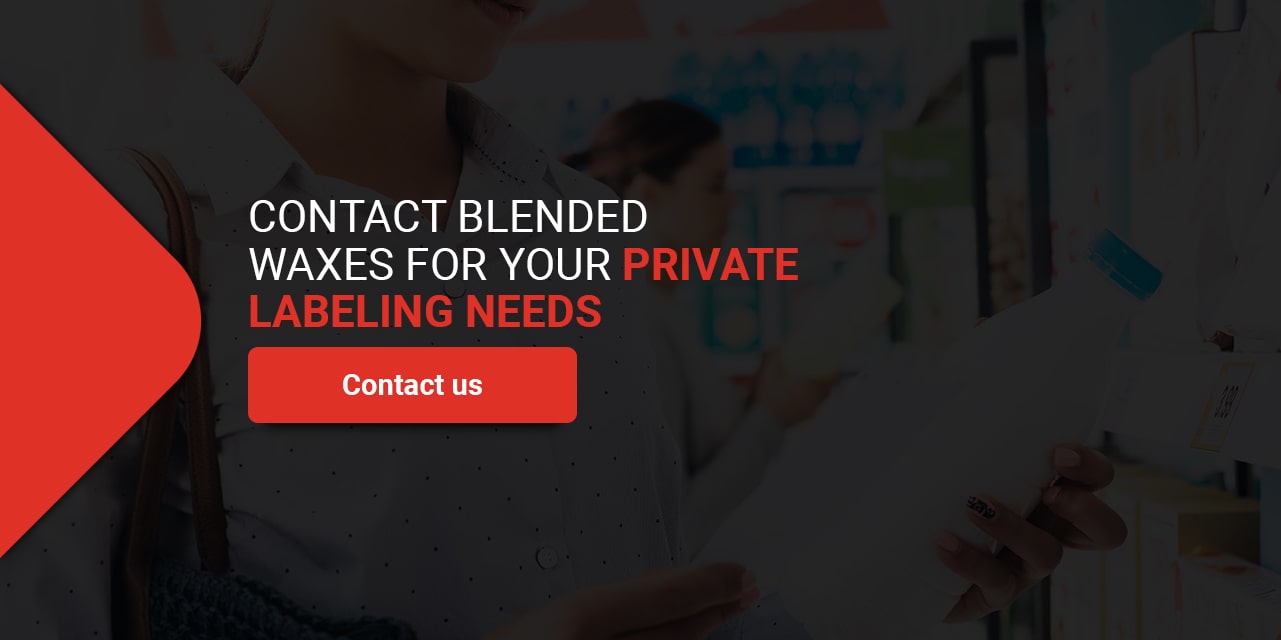 Contact Blended Waxes for Your Private Labeling Needs
Blended Waxes offers private-label manufacturing for your custom or preformulated wax needs. You retain control over each part of the process, from branding to wax blend ingredients, and we'll take care of fast, reliable production. While you will always have the final say on your wax blend choices, our experts are also here with industry expertise and top-quality equipment for results that perform well.
Learn more about private labeling from Blended Waxes and start sourcing your custom wax blends today!